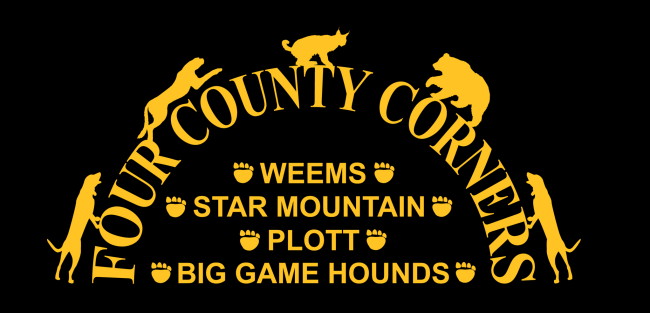 HOME | MALES | FEMALES | BREEDING STOCK | CONTACT US
Four County Corners Plotts - Breeding Stock
Our dogs are all UKC and AKC registered. Contact us for detailed information on pedigrees.

At Stud Males


Jack is a cold-nosed, fast, run-to-catch type dog. Even at ten years old, he will lead most packs. Jack is a winning combination of Ponderosa, Swampland and Weems breeding.


Clyde is a Weems bred dog, going back to Butch and Jill several times in the six-generation pedigree. He is out of Bowman's Plott Crowder and Bob Beck's Tree Right Ruby. Clyde has developed into a start dog deluxe, willing to grub out and bad track and gets the game jumped. He is also an excellent rig dog.


Dodger is a young dog out of Jack and Star Mountain Betty. Dodger is a promising young dog, which at an early age, was able to cold track off the bait. We expect him to do nothing but improve with experience.

Females
Our females are the backbone of our pack, and are not bred until they have proven themselves. WE HAVE NO BROOD BITCHES!


Betty is a very cold-nosed, easy to handle dog. She is used mostly for bobcat, but is an excellent bear dog as well. She has produced pups from different sires that are performing well. We have references on Betty's pups.


Brandi is a littermate to Clyde, an excellent cold-nosed, gritty female. A good percentage of her pups are performing well.


Stormy is out of Jack, and Four County Corners Star Mountain Kate (now deceased). Stormy if very cold-nosed and can move a track very fast. She is hunted on bear, and coyotes in the winter. She has caught several coyotes in very little snow. She will lift her head and run when the game is jumped. We have not raised any pups from Stormy yet, but intent to breed her this year.

We usually raise one or two litters a year. Call for availability. Pups are $300.00 with half down at booking.
HOME | MALES | FEMALES | BREEDING STOCK | CONTACT US
---
Site Hosted and Maintained by CoonDawgs.com