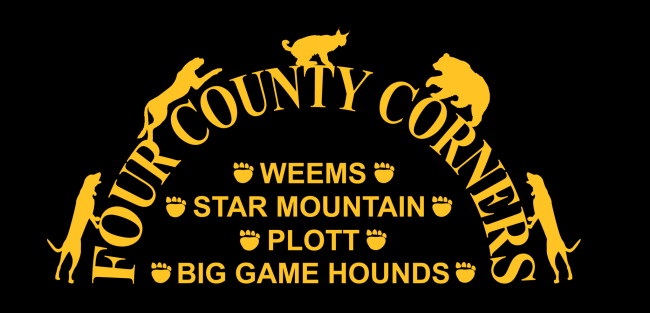 HOME | MALES | FEMALES | BREEDING STOCK | BEAR PHOTOS | CAT PHOTOS | CONTACT US
Thank you for visiting our site.
Here at Four County Corners, we have been breeding for intelligent, cold-nosed, easy handling dogs, with enough grit to get the job done. We stress intelligence, because without that, the other characteristics cannot be used to their full potential.
We hunt primarily Bear and Bobcat, but our dogs are being hunted successfully on Lions, Coon, Coyotes, and Hogs as well.
Our Star Mountain dogs go back to Star Mountain Jet, Star Mountain Echo, Star Mountain Abe, Star Mountain Diesel and Star Mountain Slate. Our Weems dogs are heavily Butch and Jill bred, with our first dogs coming from Bob Beck.
We raise one or two litters a year, mostly for our own use. In the future, we may breed more, and have more puppies available from proven crosses. Occasionally, we have a started dog for sale, sometimes a finished young dog.
Four County Corners Plotts




Chad Hooks
E7620 South Brookville Rd
Viroqua WI 54665

Phone 608-293-0083

fourcountycornersplotts@gmail.com






RICK ANDERSON
N14342 10th ST.
CLEAR LAKE, WI 54005

Home Phone 715-263-2897 • Cell 715-641-0357

rick4ccplotts@hotmail.com



HOME | MALES | FEMALES | BREEDING STOCK | BEAR PHOTOS | CAT PHOTOS | CONTACT US
---
Site Hosted and Maintained by CoonDawgs.com